Todays Afternoons with Anna and Adda officially marked the 10th wednesday show (Technically it's our 12th full show after covering a few but i'm not counting them)! It's not something we noticed while we were on air, but we have managed some pretty cool things over the weeks!
Week 4: Creating a whole show with the letter A
Week 4 (8/11/13) of shows we covered the Friday show (one of the ones I wasn't counting). Anna had put us in for it and we wanted to make sure any potential listeners would remember us and hopefully tune in to us. With our hashtag on twitter going as #AAA, I decided while doing the playlist the night before, to have every song have an association with the letter A! The songs ranged from Arctic Monkeys and Adele through to AC/DC and Aqua. We even managed to get 2 different films in for our usual Movie Music feature. Number 1 – Aladdin, Number 2 – Mary Poppins, purely down to Julie Andrews!
It took a lot of prep, research and hard work but in the end, we filled a 2 hour show entirely with A songs! Check out the playlist below:
---
Week 10: Interview with Elizabeth Coyle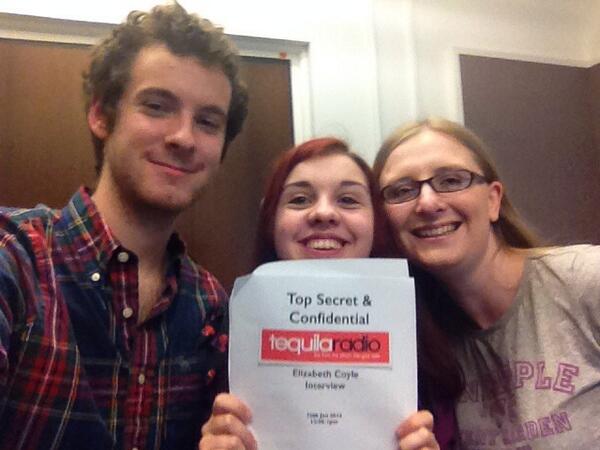 For our 2nd week of 2014 (15/1/14), we managed to get an interview with Sherlock Actress, Elizabeth Coyle. She starred in the 1st Episode of the recently broadcast 3rd season so was great to get in for the show. For Anna and I, there was an unusual amount of preparation to make sure that we had everything ready for Elizabeth to come into the studio and hopefully have a good time. Whilst I organised the playlist and running order as usual, Anna sorted out a set of questions plus an acting class (Very good for radio!) and a SherLOCK or SherNOT quiz. It was odd having someone else in the studio with us. Anna did a lot of the interview while I dipped in and out with the odd comment.
I have a full recording which will be available soon!
---
Our 10 weeks of broadcasting have been great fun, and I'm looking forward to doing more! The features we launched back in our first weeks are still going strong. Odd news comes up with some increasingly unusual stories and movie music is slowly moving from A-Z. We're just hoping we make it by the end of the year!
In my first post, I said: "The next step of recording and Podcasting…we'll see!" The first step of this is to edit the Elizabeth Coyle interview and again, if that goes well maybe "Anytime with Anna and Adda" can be a real thing!
Finally, remember:
To listen to us every Wednesday 12-2pm, visit: http://www.tequilaradio.co.uk
To follow us on twitter go to: http://www.twitter.com/AAAfternoons